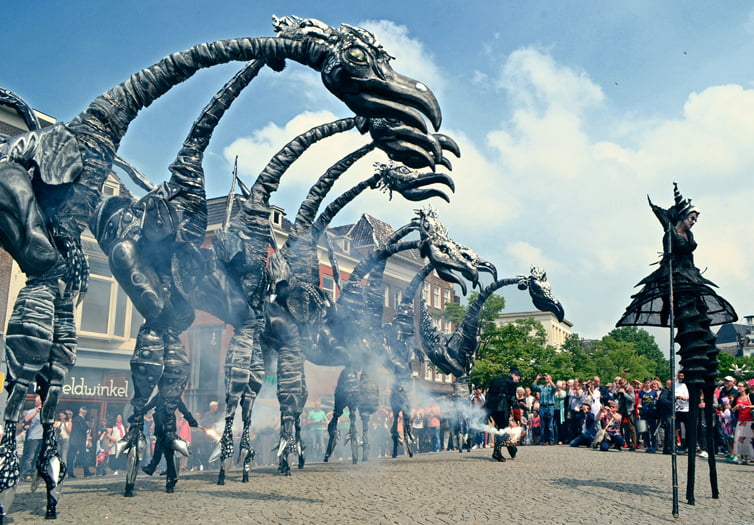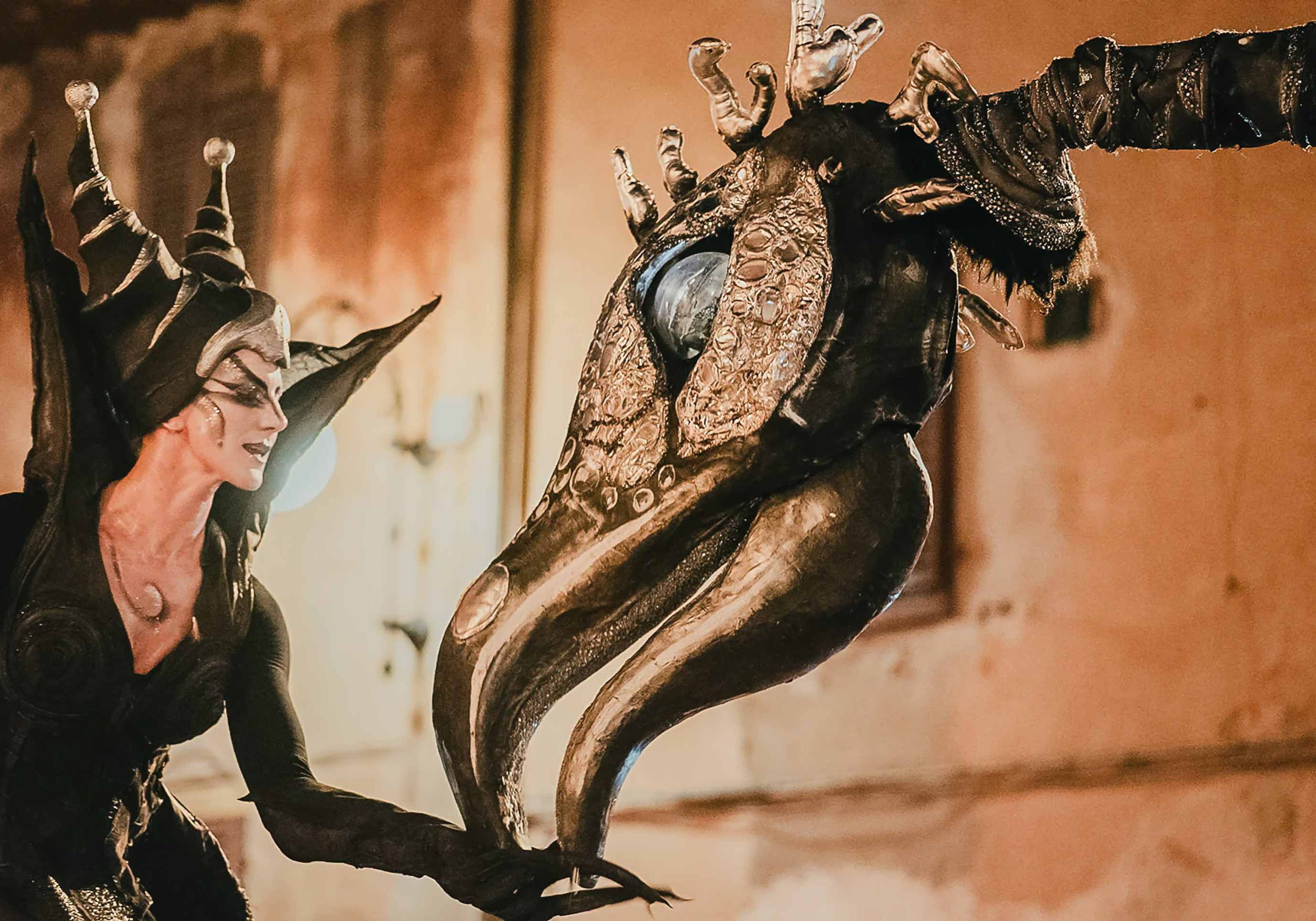 They are presumed to be extinct, nonetheless the biggest beasts that ever walked the earth return to the twentyfirst century. With a deafening roar these Sauruses charge through the crowds, looking for food to calm their hunger. People jump swiftly out of their way having never seen such giant beasts before.
There is a widespread sigh of relief as the Sauruses start eating plants. Ah vegetarians!
come closer to view these beasts
Now people risk moving closer to view these prehistoric beasts better; the Sauruses are playful and spontaneous, snapping at hands and sweeping their tails. After a while they move on, lined up neatly, their heads bobbing in an easy rhythmic manner, behind them a stunned audience stands and watches in amazement as the beasts slowly disappear.
Information regarding Saurus
One Saurus is approx. 5m.in height and 7m in length. This extreme size makes the act particularly suitable for big squares and streets with plenty of audience.
The Sauruses silver colouring ensures their visibility at night.
Music installations are installed in the costumes; playing sounds and mystical sound scapes.
The performers (on stilts) are completely concealed in the costumes and human proportions are no longer recognizable. Their movement is natural and flowing.
After the show the voluminous costumes are put on special scaffolding. A large audience gathers to watch this ritual. Curious spectators expect high tech machinery in the costumes; many people have eagerly followed the Sauruses to see them dismantled only to discover the simplicity of the secret installation.
Saurus is a mobile act with a minimum of 3 actors.
The act can be expanded to a maximum of 12 Sauruses and several extra characters, for example a leader and Characters (futuristic personage).
EXTRAS:
There is a minimum of 3 and a maximum of 12 silver Sauruses.

THERE ARE ALSO 3 RED SAURUSES

A Leader (see Black Shapes), a powerful, black character on stilts, can be added as herder of the Sauruses.

Characters  silver, futuristic beings (see act Characters) can be added as troops of the Sauruses.

Insects  silver, futuristic beings  (see act Insects) can be added as troops of the Sauruses.

By night a fire player with hand flares can be added. The hand flares create a magical lighting effect for the spectacle.
If you like more information about this Act, please contact us