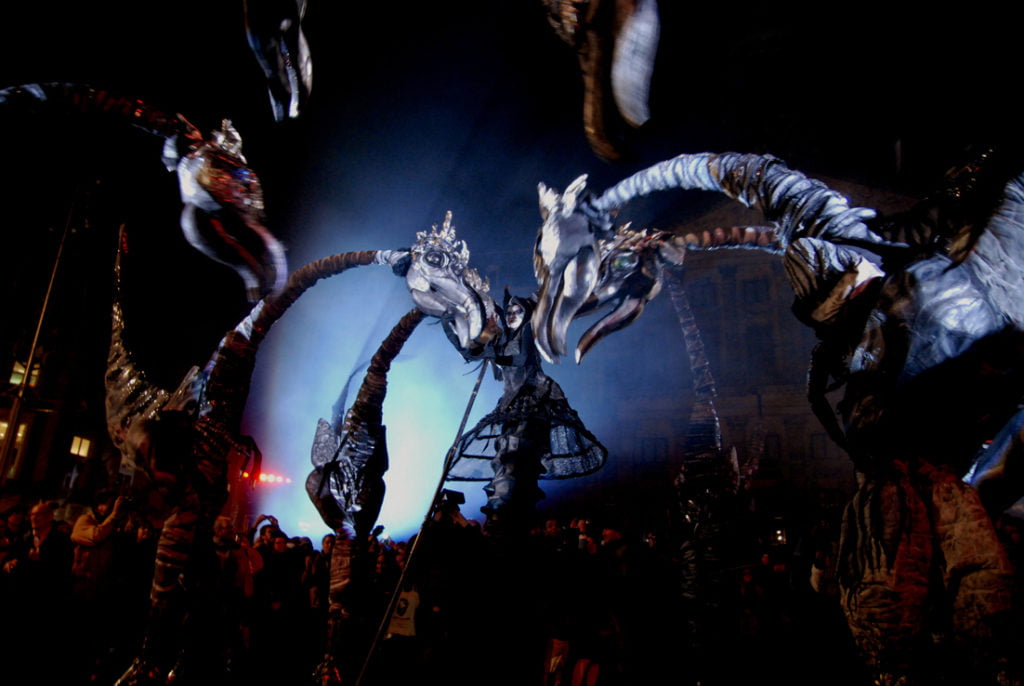 You don't see people in costumes these animals have got a soul.
This an article from the book: The Wonder of Street theater


How we came up with this idea?
We were working with an unpractical head on a stick held by a stilt walker and dancers trapped a very hot costumes and a long neck, pulled in different directions all the time. During the first years of this act "Blue Birds "were indeed nothing but a huge head on a stick. It still looked amazing and in fact it became the foundation for one of our most popular acts.
One of the first performances was in Germany 1994: Hesther Melief walked on stilts holding the head of the bird while her sister Rachel Melief had to follow every movement of the bird's head. Just exhausting!
We also had a broken tent, leaving us a few useable tent poles to work with.
The third performer was Tonny Aerts playing percussion to accompany the act. He had a brand-new drum harness and came up with a brilliant thought: "You might just carry the head without hands. I'll build a new harness for on your back!". This was one of the most important ideas behind the further development of Close-Act's acts.
The Blue Birds themselves also further one with a process of their own. They have grown into three loveable blue animals that walk in synchronized steps with large flipper feet, making cute alien sounds and their eyes lighting up, ready to march along many more kilometres.
It wouldn't be Close-Act if that is where it ended. Ever since 2003 we've been exploring the possibilities of carrying the heavy costume while walking on stilts.
After many test and different versions of the Saurus, we finally found it and we were hitting the street.
The Saurus are looming far in the distance, moving in a calm rhythm. No longer you see people in costumes walking on stilts – these animals have gotten a soul. They are pre-historic creatures that eat from the trees and in no time, it seems a natural thing. You're walking here, and they are here as well! Somebody might reach out to stroke the head or opt to run. Age is immaterial just as it's unimportant where in the world we are. The Saurus are alive and integrated in the daily walks of life. That is the magic of the costume.